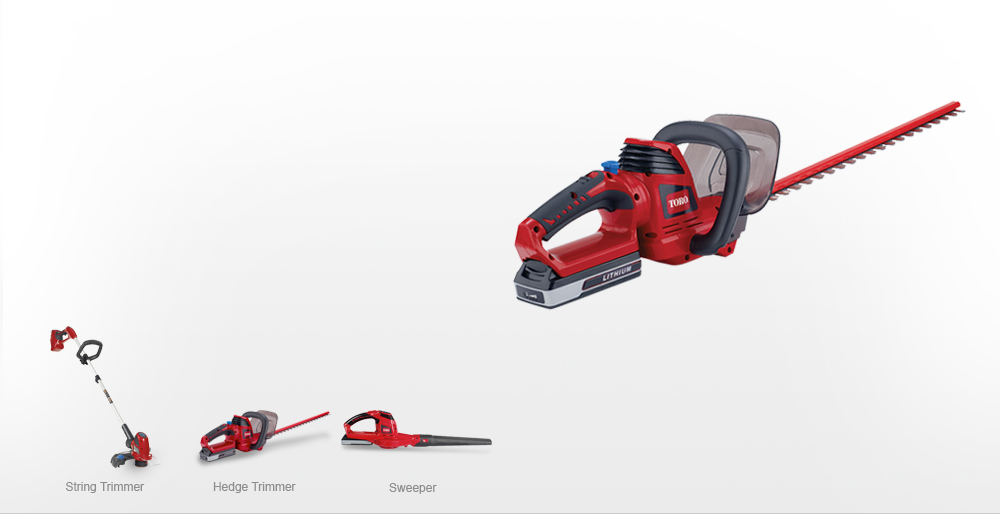 24V Max* 24" Cordless Hedge Trimmer (51496)
(Battery and charger included.)


Toro's durable hedge trimmers deliver high-performing features that make yard care seem effortless. Lightweight and easy to operate, the ergonomic handle rotates 90 degrees in each direction making for comfortable trimming. The powerful 24 volt Lithium-ion battery provides a longer run time and recharges in about an hour.
• 24" long cutting bar with polished, hardened steel, dual-action
blades. Cuts through branches up to 5/8" thick
• 24V Max* Lithium Ion Battery provides up to twice the power
per weight versus traditional nickel-cadmium batteries
• Handle rotates 90 degrees in each direction, making
trimming vertically easy and comfortable
• Great for larger yards where a cord just won't reach

*Disclaimer for 24V: Battery manufacturer rating = 24V maximum & 22.2V nominal.
Actual voltage varies with load.











See it in Action!