At The Toro Company, we thrive on innovation. From our early beginnings, innovation has been key to our success and market leadership. This constant focus has fueled creative solutions to help our customers improve productivity, increase fuel and energy efficiency, and reduce emissions. This includes recent product introductions powered by propane, biofuels, hybrid, advanced battery, electronic fuel injection, hydrogen fuel cell, and LED technologies.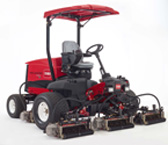 In 2015, Toro introduced the industry's first fairway mower with a true hybrid drive system. With patent-pending PowerMatch™ technology, the Reelmaster® 5010-H boasts average fuel savings of 20 percent when compared to other conventional fairway mowers and significantly more fuel savings when operated in economy mode.
Toro's Horizon™ technology on select Z Master® models, and Exmark's RED technology on select Lazer Z® models, provides on-board intelligence that enables operators to match the power needed to specific mowing conditions. Coupled with EFI and E-governor technologies, operators can achieve significant fuel economy. In fact, Horizon and RED-equipped models can use up to 40 percent less fuel than their carbureted counterparts, with no sacrifice to mower performance.
The Toro® Greensmaster® eFlex™, the industry's first lithium-ion battery-powered walk greens mower, is now manicuring greens and sports fields at championship venues around the world. The eFlex can mow up to nine greens on a single charge.
Several Toro® and Exmark® commercial mowers incorporate closed-loop Electronic Fuel Injection (EFI) systems to offer significant benefits in improved startability, stronger performance, and dramatically reduced fuel consumption. In some cases, commercial landscapers who have adopted EFI technology have documented up to 25 percent less fuel usage than comparable carbureted engines.
Incorporating the latest in LED technology, Unique Lighting Systems® innovative FLEX GOLD™ Series LED lamps can reduce energy usage by up to 85 percent compared to halogen lamps.
In 2010, The Toro Company collaborated with an aerospace and defense company to develop two utility vehicles powered by advanced hydrogen technology. These prototype vehicles were delivered to the U.S. Defense Logistics Agency for operational demonstration. Toro also participated in a three-year project with the New York State Energy Research and Development Authority (NYSERDA) to develop similar hydrogen cell powered equipment.
Toro's innovative Smart Power™ technology automatically transfers power where it's needed on the machine – to prevent from bogging down in heavy cutting conditions and keeping the blades at optimum cutting speed for a superior quality of cut.
Toro's Greensmaster® TriFlex™ Hybrid riding greens mower features an all-electric reel drive system.
Providing the power and performance of a gas trimmer, Toro® lithium ion battery-powered string trimmers help homeowners tackle tough tasks around the yard, and include an exclusive storage-mode feature that allows for longer runtimes and helps extend battery life.
Toro® and Exmark® propane-powered professional mowing equipment not only help reduce emissions but also provide increased fuel efficiency for extended runtimes and create a lower cost of ownership over the life of the machine.
With a focus on innovation and environmental responsibility, Toro's EnergySmart™ label is about efficiency in fuel and labor – and providing sustainability improvements for our customers.
Toro and Exmark were first in the turf industry to approve B20 biodiesel fuel for most commercial and landscape contractor equipment.
Our proprietary Recycler® cutting system mulches grass clippings into fine particles to return vital nutrients and moisture back to the soil, helping reduce yard waste sent to landfills and fertilizer usage.