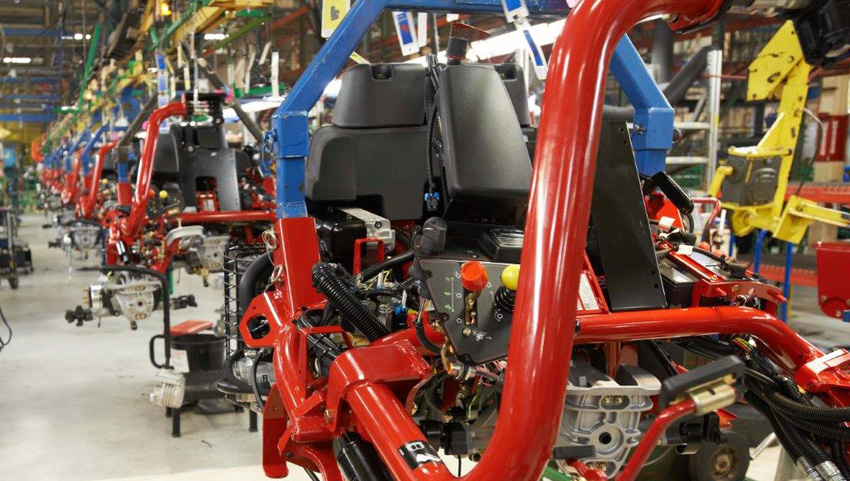 The Toro Company continually seeks to improve its energy efficiency and reduce the environmental footprint of its global manufacturing facilities. We have implemented environmental, health and safety management systems at our facilities. We also engage in periodic external audits to assure compliance with all national, regional and local environmental requirements – in addition to reducing water usage, waste and energy where possible.
The company's Tomah, Wisconsin, manufacturing facility, which produces professional equipment sold worldwide, is registered as ISO 14001:2004 compliant. This requires integration of environmental protections and compliance into all aspects of the business to ensure continuous improvement.
Our irrigation testing facility in Riverside, CA, includes a closed-loop system that utilizes filtered, recycled water to minimize overall water and energy consumption.
The Toro Company installed exhaust-scrubbing equipment to reduce carbon monoxide and other contaminants by more than 90 percent at its engineering test facility in Bloomington, Minnesota.
The company's global manufacturing facilities further reduce environmental impacts by:

Recycling steel, aluminum, plastics, cardboard packaging and paper.
Recovering and reusing powder (paint) coating.
Recycling water used in production through a wastewater treatment system.
Replacing certain cleaning systems with new systems for reduced energy and water requirements.
Replacing inefficient lighting fixtures to reduce our energy usage and carbon footprint.
Recycle and reuse 90+ percent of plastic scrap generated by manufacturing drip irrigation products by recovering and reusing them in our processes.

The company has implemented a rainwater collection and redistribution system at its facility in Adelaide, Australia, to irrigate the grounds.
Where feasible, Toro transports product components from suppliers to our facilities in reusable or recyclable packaging.