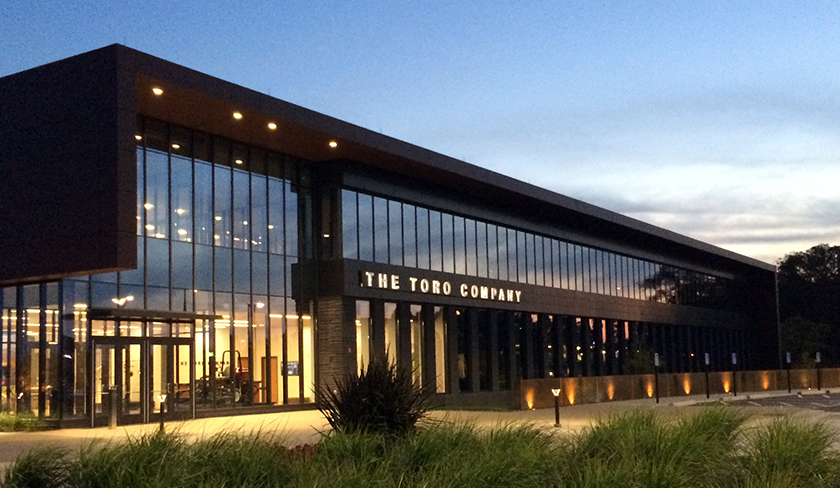 At The Toro Company, we take great pride in helping our customers enrich the beauty, productivity, and sustainability of the land. Through a strong network of professional distributors, dealers and retailers in more than 90 countries, we proudly offer a wide range of products across a family of global brands to help golf courses, professional contractors, groundskeepers, agricultural growers, rental companies, government and educational institutions, and homeowners – in addition to many leading sports venues and historic sites around the world.
We are honored to have our products used at such notable sites and events as St Andrews Links in Scotland, Pinehurst Resort, Erin Hills Golf Course (host of the 2017 U.S. Open), Olympic Golf Course in Rio de Janeiro, Château de Versailles in France, Real Madrid Club de Fútbol in Spain, Walt Disney World® Resort, Supe Bowl® LI at NRG Stadium in Houston, and the Wimbledon Championships. We are proud to serve these and the many other venues around the world.
OUR PURPOSE - To help our customers enrich the beauty, productivity and sustainability of the land.
OUR VISION - To be the most trusted leader in solutions for the outdoor environment. Every day. Everywhere.
OUR MISSION - To deliver superior innovation and to deliver superior customer care.
For more information, view our corporate fact sheet.
Our Customers
Golf - Toro entered the golf equipment business in 1919 when we mounted five reel cutting units to a Toro tractor to maintain the fairways at The Minikahda Club in Minneapolis. Today, we hold the leadership position in nearly every product category in which we compete. Our high-quality products, exemplary service and support, and a legacy of trusted relationships industry-wide have combined to make Toro the global leader of innovative turf maintenance equipment and irrigation technologies for the golf market.
Professional Contractor & Construction - For mowing commercial and residential properties during the growing season and clearing snow during the winter, professional contractors rely on our trusted brands for productivity, durability and increased efficiency. For creating landscapes, our line of compact utility loaders, trenchers, turf renovation and tree care products tackle heavy work while minimizing impact to the turf. The specialty construction business is driven by products that install underground utilities, excavate and move materials, as well as mix mortar and finish concrete for building structures and compact the earth for secure foundations. And, for irrigation and lighting contractors, our complete offering of irrigation technologies helps apply water more efficiently - while our professional-quality lighting solutions make outdoor environments more beautiful and secure.
Sports Fields & Grounds - Keeping sports fields healthy and safe for professional teams, college athletes and community recreational events can be challenging. This also holds true for tax supported entities with responsibility for maintaining parks and public green spaces. Turf professionals demand productive and reliable equipment to get the job done, as well as irrigation solutions that save and apply water more efficiently. Toro provides a broad suite of products and services to satisfy the demands of these customers.
Agriculture - With an expanding population, growers around the world are looking to technologies that help increase the productivity of existing land and maximize precious water resources. Toro's drip irrigation solutions help growers of permanent, field and row crops around the world realize substantial benefits in yield, quality and water savings from the precise application of water and nutrients.
Rental - Toro's rental business is driven by products that excavate and move materials in confined spaces for landscaping and hardscaping, mixing mortar and finishing concrete for building structures. Compacting the earth for secure foundations, and helping arborists and turf professionals maintain lush landscapes. Rental stores rely on Toro to deliver easy-to-operate machines that hold up to demands of heavy use, season after season.
Homeowner - When it comes to managing the yard, homeowners want tools that give them the confidence to master the task. That's why they look to our many turf and landscape maintenance brands for smarter ways to take charge of the outdoors year round. From walk power mowers and zero-turn riders to irrigation technologies, snow blowers and yard tools – our products combine smart features with proven dependability.