MAKE THE MOST OF YOUR WORKDAY
Toro's TITAN® HD zero turn mower eliminates the trips back to the truck or shed with this versatile, tool-carrying zero turn mower. Plus you get the power, cutting performance and durability you expect from a Toro.
NEW Toro® TITAN HD with MyRide® Suspension
The MyRIDE Suspension System features a suspended operator platform and adjustable rear shocks to provide a superior ride. Select models only.
TITAN HD Zero Turn Mower with Tool Carrying Versatility
Toro's TITAN HD zero turn mower offers your the power and performance, comfort, durability and the tool-carrying ability to get your work done much faster.
Carries Multiple Tools - TITAN HD Zero Turn Mower
Get more done on and off your zero turn mower. Superior comfort, maximum durability. Features amazing tool carrying system to make your day in the yard easier.
TITAN® HD : FEATURES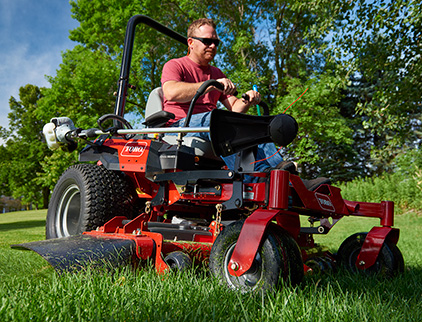 SUPERIOR PRODUCTIVITY
Experience superior productivity with larger tires, a 7-gallon fuel tank, ground speeds up to 10 mph, and the innovative tool carrying capability of the TITAN® HD. Toro has productivity in mind, on or off the mower.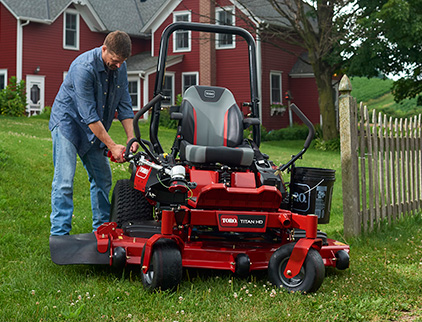 INNOVATIVE TOOL CARRYING
TITAN HD provides you the unique ability to easily attach your tools and accessories directly to the mower with the innovative tool-mounting brackets, saving you time and improving your efficiency. Tool-mounting kits are optional attachments.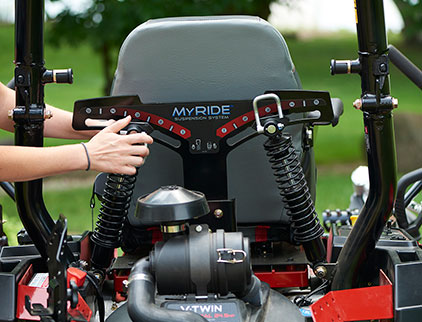 PERSONALIZED RIDE SETTINGS
The suspended operator platform allows you to float with 3" of travel — double that of a standard suspension seat in this class. Quickly and easily adjust the ride settings to your personal preference. Select models only.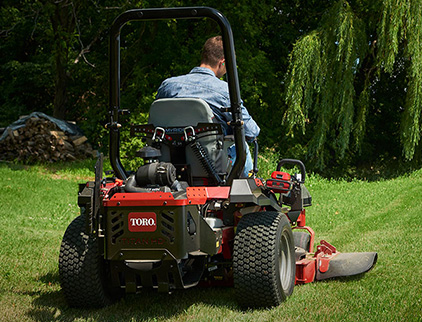 PROFESSIONAL QUALITY OF CUT
Landscape professionals world wide rely on Toro's patented TURBO FORCE® decks for outstanding quality of cut and durability.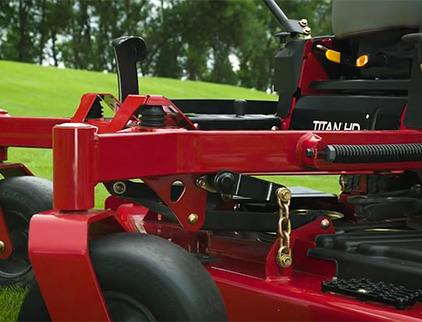 COMMERCIAL-GRADE DURABILITY
From the durable 7/10-gauge high strength steel TURBO FORCE® cutting deck, to the rugged 3" x 2" tubular frame and commercial-grade hydraulics, the TITAN® HD zero turn mowers are built to last.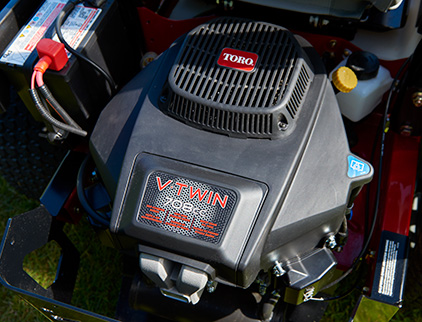 POWERFUL ENGINES
Powered by a series of commercial-grade engines from Toro®, Kohler® and Kawasaki.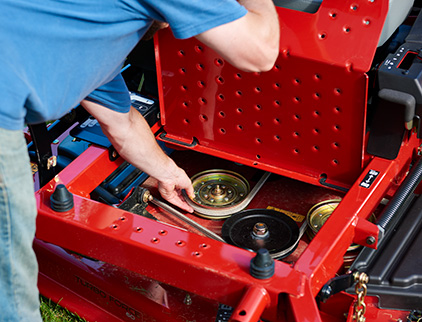 EASY TO SERVICE
The flip-up floor panel and easy access to routine service points around the engine make service easy.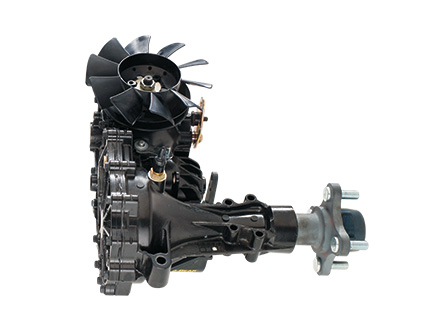 HEAVY-DUTY HYDRAULICS
Get a smoother, faster response while enjoying an even more reliable machine from the commercial-grade hydraulics.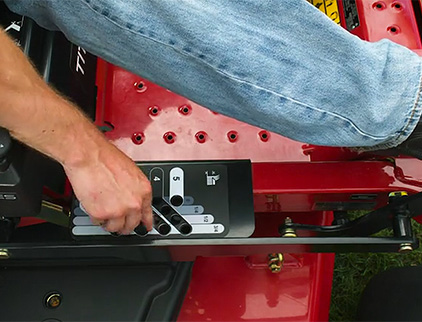 HEIGHT OF CUT ADJUSTMENT
Change the deck height quickly and easily with this intuitively designed panel.
SPECIFICATIONS
MODEL
1500 SERIES
74450
1500 SERIES
74451
1500 SERIES
74452
2000 SERIES
WITH MyRIDE®
74465
2000 SERIES
WITH MyRIDE®
74466
2000 SERIES
WITH MyRIDE®
74467
2000 SERIES
74463
2500 SERIES
74470
2500 SERIES
74471
2500 SERIES
74472
ENGINE*
24.5 hp Toro V-Twin 708cc
24.5 hp Toro V-Twin 708cc
24.5 hp Toro V-Twin 708cc
24.5 hp Toro V-Twin 708cc
24.5 hp Toro V-Twin 708cc
24.5 hp Toro V-Twin 708cc
25 hp Kohler® 747cc
20.5 hp Kawasaki® FX 726cc
22 hp Kawasaki® FX 726cc
23.5 hp Kawasaki® FX 726cc
ELECTRIC START
Standard
Standard
Standard
Standard
Standard
Standard
Standard
Standard
Standard
Standard
DECK WIDTH
48"
52"
60"
48"
52"
60"
60" Rear Discharge
48"
52"
60"
CUTTING DECK
TURBO FORCE®
TURBO FORCE®
TURBO FORCE®
TURBO FORCE®
TURBO FORCE®
TURBO FORCE®
TURBO FORCE®
TURBO FORCE®
TURBO FORCE®
TURBO FORCE®
DECK DEPTH
5"
5"
5"
5"
5"
5"
5.5"
5.5"
5.5"
5.5"
DECK CONSTRUCTION
7/10-gauge high-strength steel
7/10-gauge high-strength steel
7/10-gauge high-strength steel
7/10-gauge high-strength steel
7/10-gauge high-strength steel
7/10-gauge high-strength steel
7/10-gauge high-strength steel
7/10-gauge high-strength steel
7/10-gauge high-strength steel
7/10-gauge high-strength steel
BULL-NOSE BUMPER
Standard
Standard
Standard
Standard
Standard
Standard
Standard
Standard
Standard
Standard
RUBBER DISCHARGE CHUTE
Standard
Standard
Standard
Standard
Standard
Standard
Standard
Standard
Standard
Standard
DECK SPINDLES
8" Alum Sealed Ball Bearings, 1" Shaft
8" Alum Sealed Ball Bearings, 1" Shaft
8" Alum Sealed Ball Bearings, 1" Shaft
8" Alum Sealed Ball Bearings, 1" Shaft
8" Alum Sealed Ball Bearings, 1" Shaft
8" Alum Sealed Ball Bearings, 1" Shaft
8" Alum Sealed Ball Bearings, 1" Shaft
8" Alum Sealed Ball Bearings, 1" Shaft
8" Alum Sealed Ball Bearings, 1" Shaft
8" Alum Sealed Ball Bearings, 1" Shaft
HYDRAULIC DRIVE SYSTEM
ZT3100
ZT3100
ZT3100
ZT3100
ZT3100
ZT3100
ZT3400
ZT3400
ZT3400
ZT3400
FUEL CAPACITY
7 Gallon
7 Gallon
7 Gallon
7 Gallon
7 Gallon
7 Gallon
7 Gallon
7 Gallon
7 Gallon
7 Gallon
MAX GROUND SPEED (FWD)
8 mph
8 mph
8 mph
9 mph
9 mph
9 mph
9 mph
10 mph
10 mph
10 mph
REAR TIRES
22 x 9.5 - 12
22 x 9.5 - 12
22 x 10.5 - 12
23 x 9.5 - 12
23 x 9.5 - 12
23 x 10.5 - 12
23 x 10.5 - 12
24 x 9.5 - 12
24 x 9.5 - 12
24 x 12 - 12
FRONT TIRES
13 x 6.5 - 6 Cage Bearing
13 x 6.5 - 6 Cage Bearing
13 x 6.5 - 6 Cage Bearing
13 x 6.5 - 6 Cage Bearing
13 x 6.5 - 6 Cage Bearing
13 x 6.5 - 6 Cage Bearing
13 x 6.5 - 6 Cage Bearing
13 x 6.5 - 6 Taper Roller
13 x 6.5 - 6 Taper Roller
13 x 6.5 - 6 Taper Roller
SEAT
Deluxe Adjustable Suspension Seat
Deluxe Adjustable Suspension Seat
Deluxe Adjustable Suspension Seat
MyRIDE® Suspension System
MyRIDE® Suspension System
MyRIDE® Suspension System
Deluxe High-Back Adjustable Suspension Seat
Deluxe High-Back Adjustable Suspension Seat
Deluxe High-Back Adjustable Suspension Seat
Deluxe High-Back Adjustable Suspension Seat
TOOL-MOUNTING CAPABILITY
Side Console Ready
Side Console Ready
Side Console Ready
Side Console / Rear Guard Ready
Side Console / Rear Guard Ready
Side Console / Rear Guard Ready
Side Console / Rear Guard Ready
Side Console / Rear Guard Ready
Side Console / Rear Guard Ready
Side Console / Rear Guard Ready
DECK LIFT ASSIST PEDAL
Standard
Standard
Standard
Standard
Standard
Standard
Standard
Standard
Standard
Standard
CUTTING HEIGHT
1.5" - 5" in .25" increments
1.5" - 5" in .25" increments
1.5" - 5" in .25" increments
1.5" - 5" in .25" increments
1.5" - 5" in .25" increments
1.5" - 5" in .25" increments
1.5" - 5" in .25" increments
1.5" - 5" in .25" increments
1.5" - 5" in .25" increments
1.5" - 5" in .25" increments
ROPS
No-tools Folding
No-tools Folding
No-tools Folding
No-tools Folding
No-tools Folding
No-tools Folding
No-tools Folding
No-tools Folding
No-tools Folding
No-tools Folding
WARRANTY
4yr/500 hr
4yr/500 hr
4yr/500 hr
4yr/750 hr
4yr/750 hr
4yr/750 hr
4yr/750 hr
4yr/1000 hr
4yr/1000 hr
4yr/1000 hr
Disclaimer
*Specifications subject to change without notice and without incurring obligation. Products depicted on this sell sheet are for demonstration purposes only. Actual products offered for sale may vary in design, required attachments and safety features. **See retailer for warranty details