DRIP ZONE VALVE KIT
Pre-packaged and ready for installation.
Toro® Drip Zone Valve Kits are specially designed for low-volume drip applications and provide everything you need for drip zone automation. With no need to specify or purchase separate parts, Toro Drip Zone Valve Kits are sure to meet your landscape drip irrigation needs.
POWERFUL, STANDARD FEATURES
Note:
Click on the linked heading text to expand or collapse accordion panels.
These kits are a simple, one-stop package available in ¾" (20mm) and 1" (25mm) sizes.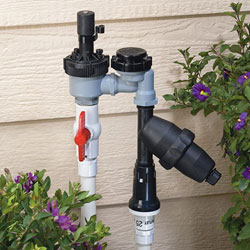 Toro® Y-Filter (protects against contamination), Control Valve (controls the flow of water), and Pressure Regulator (reduces system pressure to levels suitable for drip irrigation)
TPV Series (1" [25mm] Inline), EZ-Flo® Plus (¾" [20mm] AVB and 1" [25mm] Inline), 700 UltraFlow® Valve (1" [25mm] Inline).
LEARN MORE