| | |
| --- | --- |
| | U.S. Consumer Product Safety Commission – Fast Track Recall |
Release Date: February 17, 2021
Release Number: 21-DRAFT FOR CLEARANCE
Toro Recalls Power Max Snowthrowers Due to Amputation Hazard
To view a list of affected serial numbers, see the table at the bottom of this page.

Recall Summary
Name of Product: Toro Power Max Snowthrowers
Hazard: The auger can fail to disengage when the control lever is released, posing an amputation hazard.
Remedy: Repair
Consumers should immediately stop using the recalled Toro Power Max Snowthrower and contact a Toro authorized dealer for a free repair.
Consumer Contact: Toro toll-free at 833-254-8856 to access the 24-hour Toro Dealer locator system, or online at www.toro.com/locator to locate a Toro authorized service dealer near you.
Recall Details
Units: About 6,700
Description: This recall involves Model Year 2021 Toro Power Max 826 OHAE Snowthrowers with Model Number 37802. The model and serial number are located on the back of the snowthrower. Serial numbers included in this recall are listed on Toro's website at https://www.toro.com/en/product-safety-information/product-recall-information.
Incidents/Injuries: The firm has received five reports of incidents related to auger failing to disengage when the control lever is released. No injuries have been reported.
Sold at: The Home Depot, Ace Hardware, and Toro Authorized Dealers nationwide and online at www.homedepot.com, www.acehardware.com, and www.toro.com from November 2020 through January 2021 for about $1,200.
Manufacturer: The Toro Company, of Bloomington, Minn.
Manufactured in: Juarez, Mexico
Photos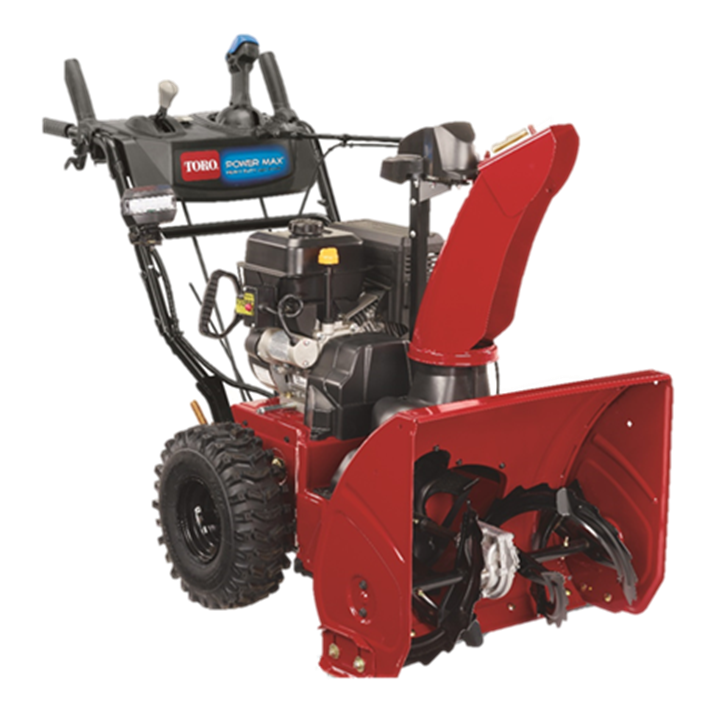 Recalled Model Year 2021 Toro Power Max 826 OHAE Snowthrower, Model 37802
| | |
| --- | --- |
| | This recall was conducted voluntarily by the company under CPSC's Fast Track Recall process. Fast Track recalls are initiated by firms who commit to work with CPSC to quickly announce the recall and remedy to protect consumers. |
About the U.S. CPSC
The U.S. Consumer Product Safety Commission (CPSC) is charged with protecting the public from unreasonable risks of injury or death associated with the use of thousands of types of consumer products. Deaths, injuries, and property damage from consumer product incidents cost the nation more than $1 trillion annually. CPSC's work to ensure the safety of consumer products has contributed to a decline in the rate of deaths and injuries associated with consumer products over the past 40 years.
Federal law bars any person from selling products subject to a publicly announced voluntary recall by a manufacturer or a mandatory recall ordered by the Commission.
For lifesaving information:
Serial Number Range

Beginning
Ending
Beginning
Ending
Beginning
Ending
408668912
408668912
408848153
408848233
408978161
408978163
408668919
408668919
408848236
408848659
408978166
408978178
408669595
408669595
408848661
408848681
408978180
408978181
408669616
408669616
408848683
408848955
408978184
408978371
408689437
408689437
408848958
408848958
408978373
408978373
408689471
408689471
408848960
408848981
408978375
408978375
408689484
408689484
408848983
408914309
408978380
408978505
408689489
408689489
408914311
408914326
408978507
408978534
408689522
408689523
408914328
408914356
408978538
408978592
408689525
408689557
408914358
408914521
408978594
408978621
408689560
408689563
408914523
408914532
408978636
408978636
408689566
408689592
408914537
408914537
408978638
408978639
408689594
408689654
408914539
408914565
408978651
408978651
408689656
408689681
408914567
408914567
408978658
408978659
408691542
408691600
408914570
408914765
408978665
408978668
408691602
408691620
408914767
408914930
408978670
408978675
408691622
408691707
408914932
408914932
408978677
408978683
408691709
408691717
408914934
408914934
408978686
408978686
408691720
408691721
408914936
408915060
408978730
409039662
408691723
408691723
408915062
408915062
409039675
409039676
408691726
408691766
408915065
408915070
409039678
409039678
408691768
408691841
408915074
408915117
409039684
409039698
408691843
408691844
408915119
408977546
409039711
409039711
408691848
408691919
408977550
408977560
409039713
409039714
408691922
408691933
408977562
408977564
409039725
409039725
408691935
408691935
408977568
408977576
409039727
409039727
408691937
408691943
408977580
408977582
409039734
409039734
408691945
408691946
408977586
408977590

409039737
409039738
408691948
408691952
408977594
408977596
409039740
409039740
408691954
408691975
408977599
408977626
409039755
409039811
408691977
408691985
408977628
408977637
409042385
409042413
408691987
408692002
408977638
408977638
409042415
409042418
408692004
408692049
408977639
408977648
409042438
409042438
408692051
408692117
408977650
408977660
409042440
409042440
408692119
408692119
408977671
408977675
409042442
409042446
408692121
408692134
408977678
408977683
409042448
409042458
408692136
408692146
408977685
408977698
409042461
409042461
408692148
408692153
408977700
408977849
409042489
409042489
408692155
408692162
408977851
408977873
409042552
409042556
408692164
408692176
408977875
408977876
409042572
409042572
408692178
408692192
408977879
408977966
409042586
409042586
408692194
408692224
408977968
408977986
409042615
409042615
408692226
408692278
408977989
408978020
409042617
409042618
408692281
408692541
408978022
408978045
409042622
409042624
408726632
408727583
408978047
408978047
409042628
409042632
408727584
408733027
408978050
408978053
409042636
409042639
408733029
408846379
408978055
408978072
409042800
409042802
408846381
408846874
408978081
408978081
409042825
409042828
408846876
408848089
408978085
408978099
409042831
409042831
408848091
408848091
408978099
408978123
409042834
409042834
408848094
408848151
408978127
408978159
409042854
409042856