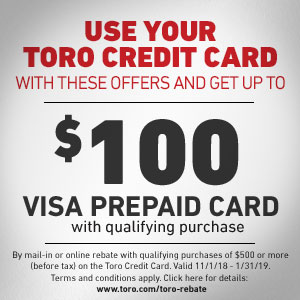 Use Your Toro Credit Card and Get Up To $100* Visa PrePaid Card
*All offers subject to credit approval. Mail-in or online offer for a Prepaid Visa® Card valid with a qualifying purchase of $500 or more when you use your Toro Credit Card (before tax**). See information regarding the Visa Prepaid Card Offer.
Valid on purchases made from November 1, 2018 to January 31, 2019 at participating dealers.

To find a local dealer, visit toro.com/dealer.